Believe in the power of the person you truly are, rather than the limits of the one you've learned to be.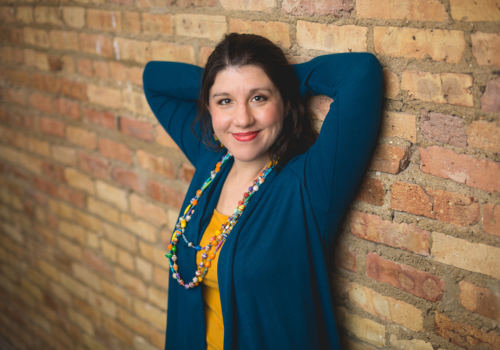 As a multi-passionate, highly empathetic woman, I know what it's like to struggle to do all the "right" things, yet feel like I could never do enough for the success I wanted.
The fact is, we live in a society full of dysfunctional and disempowering patterns, especially for those of us socialized as women. Many of our superpowers, like empathy, have been turned into our kryptonite.
My purpose is to help you shift those internalized, sabotaging patterns and align with your most powerful self. That alignment allows your energy to naturally flow into accomplishing the work you are here to do in the world.
I help you cut through the internalized BS to access solutions that fit you.
My coaching philosophy is that to shift the patterns that create imbalances in the world we must first engage the internalized patterns that limit us in our own lives. This self-work not only expands the impact of our work in the world but also creates more intentional, present, and joyful relationships in all areas of our life.
My coaching style is compassionate, creative, and fun. Compassion is at the heart of my work because it centers your humanity. It allows space for your intuition to shine. Coaching harnesses that intuition in a creative process that helps you access solutions that are personal to you and your life. We also allow space for the process to be fun because way you build influences what you build.
Fun titles clients have given me:
Mindset Magician

Master of Analogies

Motivational Unicorn

Love Vitamin for the Soul

Spiritual Mountain Support
The way I coach is focused on you:
Your lived experience. Your intuition. Your circumstances. Your dreams.
YOU are the expert of YOUR life.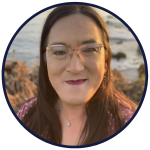 "After one call with Valerie I came away with so much to think about. She was easy to get along with and passed no judgement whatsoever. In joining her group coaching program I discovered she is every bit as amazing as she seems. She takes the time to intensely listen to and help you work through complex issues, uncovering things you didn't know were there. I can't recommend working with her highly enough."
- Ellie D., designer and mom
My coaching style does not require us to have a similar lived experience. However, I know it can be powerful to see that someone "gets it" because they've also lived it. So here's a snapshot of the story that brought me here.. also lived it. So here's a snapshot of the story that brought me here....
No one told me the "right" way to build a successful life but I had internalized the societally marketed template....
Go to college

Get married

Climb the corporate ladder

Buy a house

Have kids....
Thanks to numerous societal privileges - and despite my own social/emotional struggles - I achieved "the dream."
Yet I found myself very unhappy, burning out, and wondering what was wrong with me.
Therapy helped. Support groups for adult children of alcoholics helped. Couple's therapy helped. Self help books helped.
BUT I still felt stuck in this cycle of trying to do enough ➡️ feeling unseen and unvalued ➡️ beating myself up ➡️ finding the silver-lining ➡️ AND then doing it all again and again - in every area of my life from work to marriage to parenting until I just couldn't.
I thought a career change was the solution to my problems. While exploring options that fit my skills and interests, I discovered the modality of coaching.
Coaching helped me interrupt the cycle I was stuck in and begin to create what I actually want in life.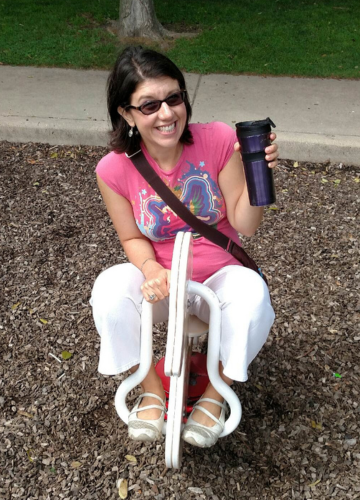 My life has felt a lot like a house remodeling project.
Sometimes I'm peeling away layers of wallpaper, sometimes I'm painting, and sometimes I'm knocking down walls.
All in the process of building a more solid, safe, and welcoming home.
The modality of coaching gave me tools to lean into the unknown and uncomfortable spaces of real change, both inside and out.
My journey is what inspires my coaching philosophy and style and why I decided to start my own coaching practice.
Working with me, you will always find a caring and judgment-free space, totally focused on you.
My training, plus my gift of intuitive listening, enable me to hear beyond your words and help you tap into the answers that are already inside of you.
Trainings and Certifications
Professional Certified Coach - International Coaching Federation (ICF)

Certified Professional Coach - Institute for Professional Excellence in Coaching (iPEC)

Energy Leadership Master Practitioner - iPEC

Basic Mediation Training - Manousso Mediation

Foundations in Somatic Abolitionism - Education for Racial Equity

Towards Liberation Workshop series - Crossroads Antiracism Organizing and Training

The National SEED Project New Leaders Training

BA in Sociology & Theater Arts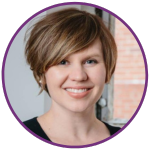 "In looking for a coach, I picked Valerie because I wanted someone who used a consistent method and had some certification. Valerie is empathetic, balances the woo and practical, and really challenged me. After working with Valerie for a few months I have a healthier approach to both life and business and the results are really showing in all areas of my life. I have nothing but praise to speak for working with Valerie. She is fantastic!"
- Jessica P., talent consultant and mom
My coaching is rooted in individual empowerment with social system awareness and is fueled by these core values:
Integrity
Being Honest and Accountable
For the compassion at the heart of my coaching process to be sustainable, it must be paired with accountability to an honest and ethical foundation.
Curiosity
Staying Open to Learning
So many of our limits are internalized societal lies. The practice of curiosity helps cultivate a mindset that allows for growth and change.
Humor
Allowing Space to Laugh
While tears are often part of the growth process, sometimes laughter is the best medicine to create the spaciousness necessary to find creative solutions.
An important facet of my work is supporting the space for awareness and unlearning of internalized norms that harm us and our world. The the closer you are to the privileges of a norm, the harder it is to perceive that norm, let alone divest from it. I am committed to continuously doing this work around my own societal privileges and conditioning, so that I can be of the best service - both personally and professionally - in creating a healthier world for everyone.
As a coach I strive to be:
💜 Culturally grounded - taking culture into consideration within my work with a client.
💜 Culturally affirming - respecting and honoring the role that culture plays in my client's life.
💜 Culturally humble - acknowledging that I don't know what I don't know and am constantly learning.
(sourced from Han Ren, Ph.D)
Your lived experience matters in our work together and I will always honor it, regardless of whether it is similar to mine.
I also adhere to the ethical standards and accountability practices of the International Coaching Federation.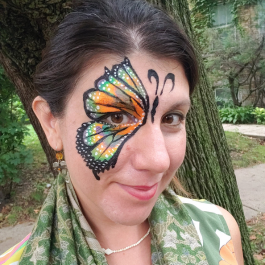 I am an artist
I love all things artistic. Most notably I have a face painting side gig, I make costumes, and have made 4 wedding dresses, 2 prom dresses, and a bridesmaid dress, so far.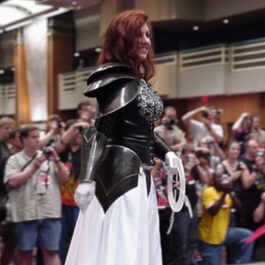 I am a nerd
Pre-kids I did a little cosplay (I won $1K for the contest in the image) and worked at a Renaissance Festival for a few summers. I'm also a comic book, sci-fi, & fantasy fan.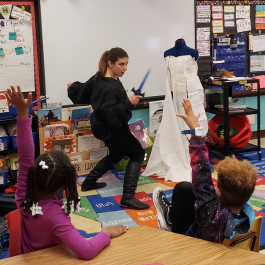 I am a volunteer
Above I'm teaching a workshop on costuming at my kids' public school. I also participate in the PTA and especially in conversations on improving equity in school.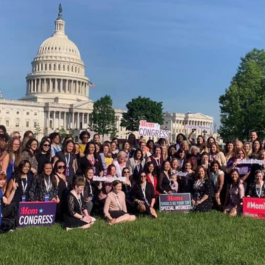 I am an activist
 I fight for social justice. From election door knocking to protest marches I advocate for change. Above I'm at a conference advocating for maternal healthcare.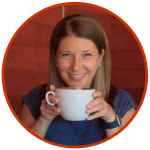 "Valerie makes a big impact in a short amount of time. Working with her was like having someone inside my head listening to my thoughts and reframing them to work for me instead of against me. She helped me define what success actually meant to me and gave me tools that had an immediate impact in my life. I gained clarity in my life from the work we did together and now I feel confident in my ability to handle anything life throws at me."
- Stephanie Nichols, life coach and mom
It's time you had a life that's as badass as you are.
If you think we might be a good fit, let's chat!